Here are seven healthy alternatives you can enjoy as healthy Christmas treats or to include in Thanksgiving healthy recipes for your healthy holidays.
Time with family, friends and loved ones has arrived! 
This is an ideal time to kick back, relax in the joyful company, and fill up with food and treats that remind us of the holidays. 
In response to feelings of joy and even love, it's a dangerous time for the dreaded holiday weight gain.
Reassuringly, there's a way to keep your goals in check in a moderate way, without the need for stress, worry, or preoccupation with food. 
The key to staying on track this season is by instituting healthy alternatives for the holidays! 
That's right, with just a few substitutes for healthy holidays, you can enjoy your favorite holiday treats and still feel good doing it.
Eat hearty savory foods in addition to all your favorite festive treats. 
Let me share healthier alternatives to chocolate, mashed potatoes, pasta, and other festive foods! 
Trust us, these healthy holiday substitutes will be a hit.
Simple Food and Recipes Alternatives for Healthy Holidays
Use for Thanksgiving healthy recipes and as healthy Christmas treats
Instead of Cream Cheese use Greek Yogurt or Hummus as Substitutes for Healthy Holidays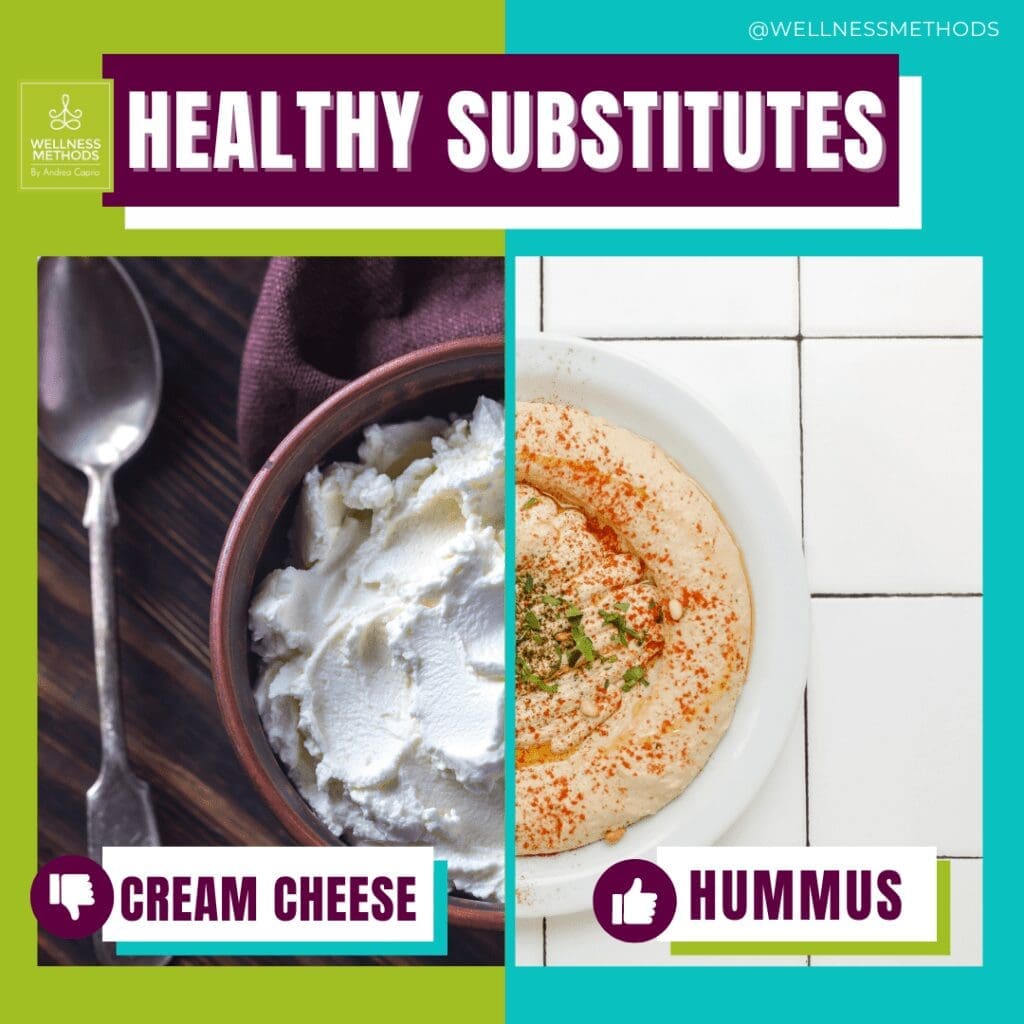 Whether you put it on your bagel or use it for recipes, a serving of cream cheese gets filled up as swiftly as it's put on breakfast toast or a bagel. 
Along with lean protein-rich Greek-style yogurt, hummus makes for an excellent cream cheese substitute thanks to fiber, protein and healthy fats. 
Try these yummy ideas:
Use greek yogurt in place of cream cheese for your sauces

Make stuffed mushrooms, pasta, or peppers using greek yogurt in place of cream cheese

Use hummus or greek yogurt as a dip with raw veggies
Instead of Pasta use Veggie Noodles for Christmas or Thanksgiving healthy recipes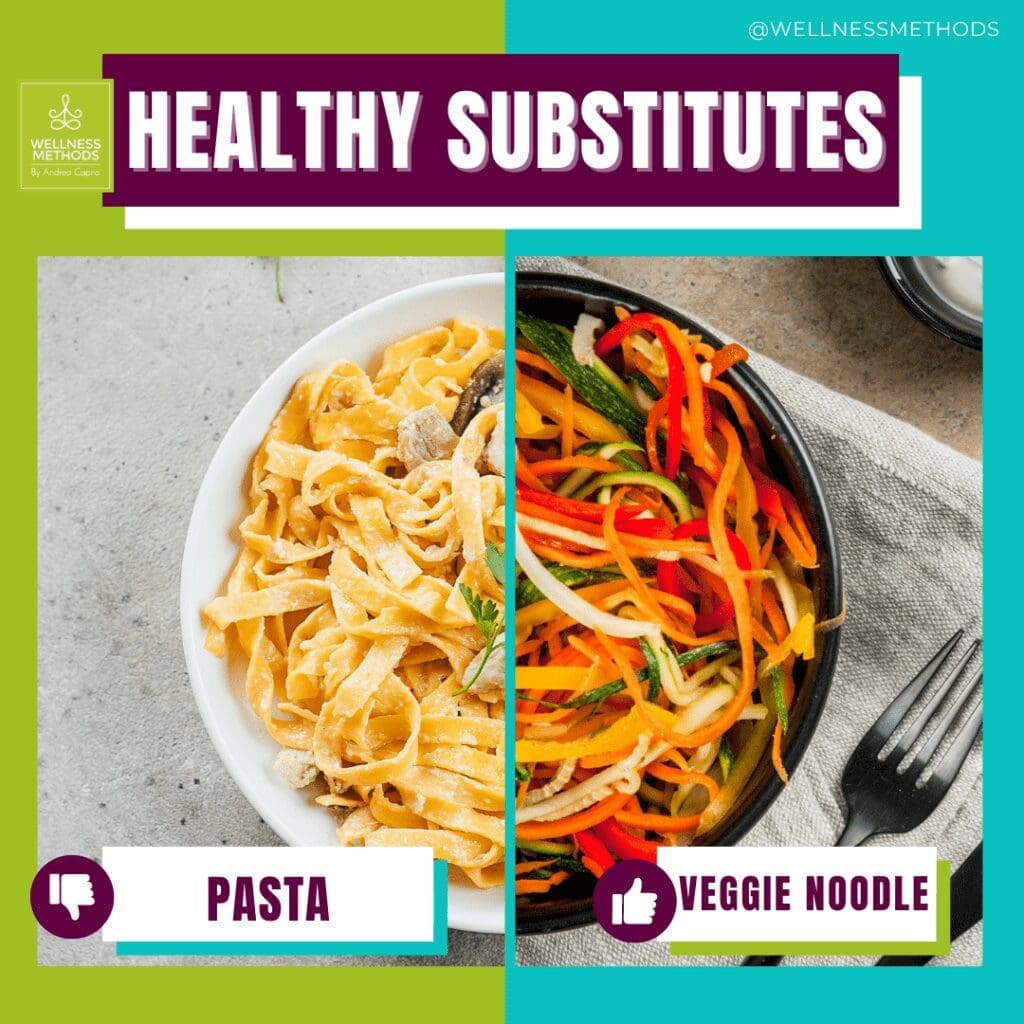 Zucchini, spaghetti squash, and legume-based noodles are all tasty holiday alternatives that will satisfy your pasta craving without carbs or calories. 
Red lentil pasta, black bean pasta, and chickpea pasta are all good alternatives to other pasta. 
Not in the mood for vegetables? 100% whole wheat pasta is a better than white flour option too!
Try these nourishing recipe ideas:
Swap zucchini noodles for traditional noodles for your pasta dish or accompanying meat

Skip the refined grains and make a hearty spaghetti squash and meatball dish

Serve up butternut squash or sweet potato noodles with a drizzle of oil and spices like rosemary, sage, and basil 

Make a low-carb pesto noodle dish with zucchini noodles, avocado, and a boost of protein
Instead of Potatoes use Cauliflower, Sweet Potatoes, or Winter Squash for healthy holidays and to Avoid Holiday Weight gain 
Mashed potatoes are a beloved holiday dish, but it's not prudent to blindly throw caution to the wind–especially because we never eat just one serving! 
To make your holiday meals healthier and maximize taste, replace potatoes with one of these nutritious holiday alternatives.
Changing white potatoes for cauliflower can save you carbs and calorie consumption. 
Worried about giving up potatoes completely? Make half your meal with potatoes and half with cauliflower!
Sweet potatoes, as well as winter squash, provide more nutrients and fewer calories than your typical potato.
Try these nourishing recipe ideas:
Mashed cauliflower with almond milk and olive oil (added benefit to replace milk with nut milk, and butter with olive oil)

Baked potatoes with olive oil and a greek yogurt dip

Fried winter squash slices to add to your roast
Are you looking to stay on track in your weight loss journey by developing eating and lifestyle habits you enjoy (without feeling deprived), can rely on, and help you to stick with?
Instead of Bread use Roasted Veggies for Healthy Holidays Alternatives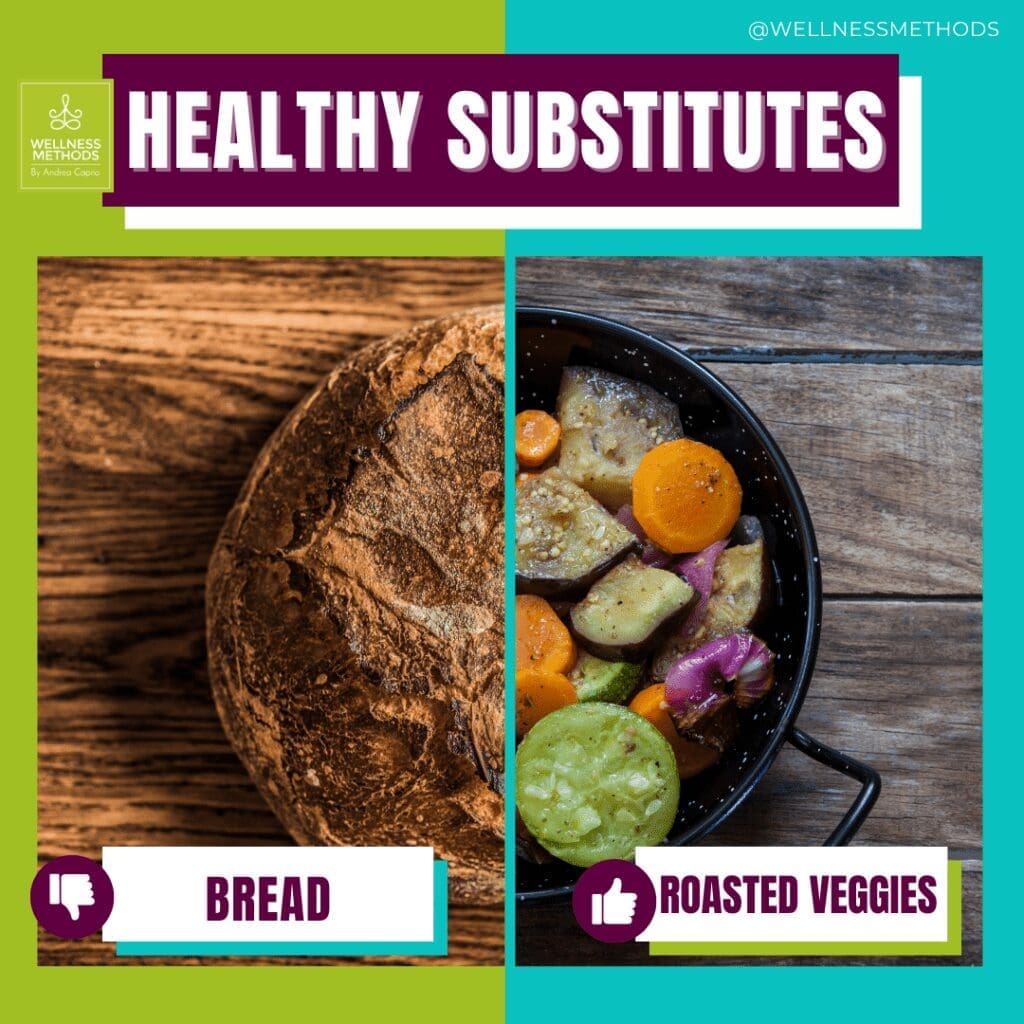 Between the stuffing, breadcrumbs, and bread rolls, holidays are a gluten overload. 
Less gluttonous solution: Incorporate roasted veggies in place of bread. 
Roasted veggies are full of fiber that can help fill the plate and your stomach to decrease bread cravings. If really you can't live without bread, eat sourdough or a wholewheat option.
Try these ideas:
Make your favorite toast sans the bread! For a savory option, try sweet potato avocado toast. 

Craving something sweet? Toast up a slice of sweet potato and top it with yogurt and nut butter 

Use eggplant, large mushrooms, or sweet potatoes as a bun replacement for burgers

Use roasted veggies like carrots or sweet potato wedges as a dipping vehicle for your favorite sauces or spreads instead of bread

Make a no-bread stuffing using hearty veggies like sweet potato, mushrooms, cauliflower, and carrots
Instead of Milk Chocolate use Dark Chocolate for Healthy Christmas Treats helping to minimize the Holiday weight gain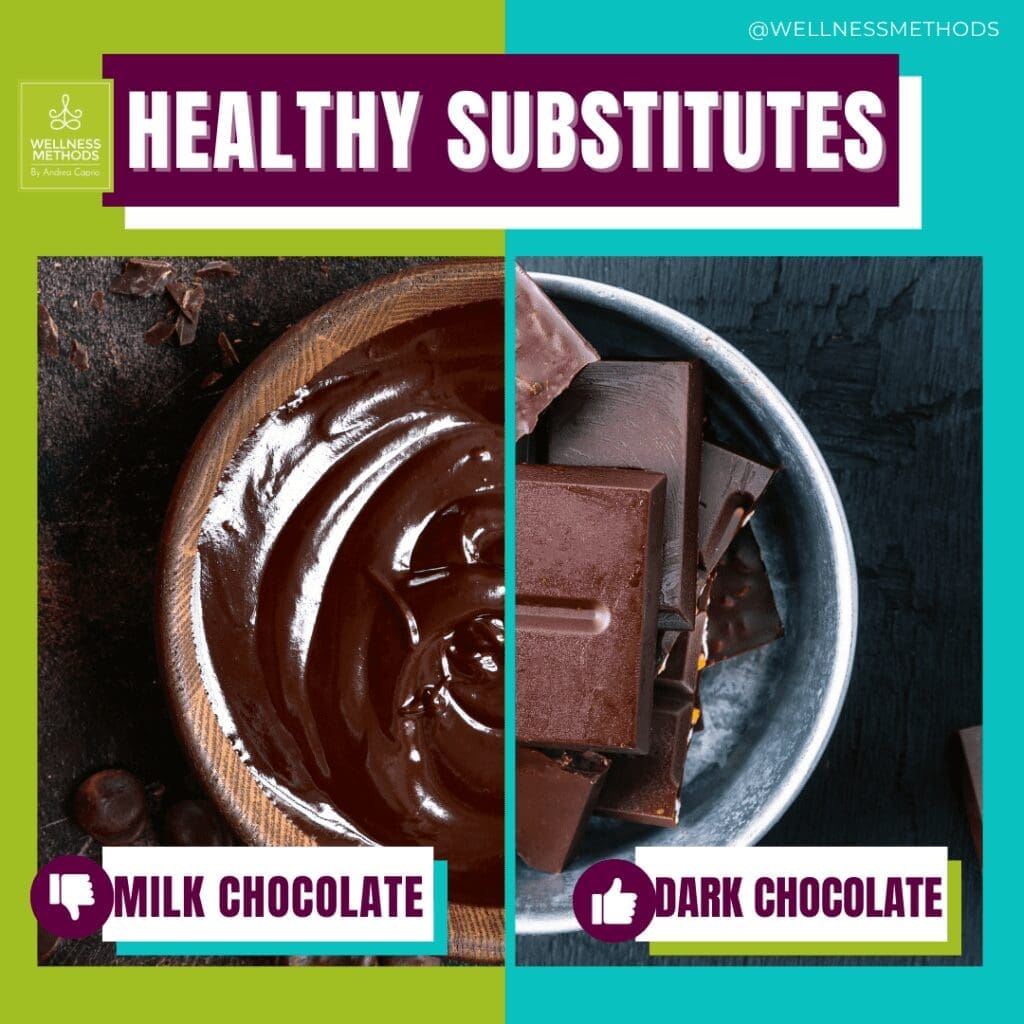 Chocolate has been getting a bad press due to commercially used Milk chocolate with added milk and sugars making this an ingredient worthy of a swap. 
No need to skip chocolate as there is a healthy alternative, dark chocolate
While dark chocolate contains heart-healthy antioxidants and minerals like magnesium, it can have just as much sugar. 
To ensure you're making healthy holiday swaps, choose dark chocolate that is at least 70% to obtain the most flavanols and includes healthy sugar alternatives such as stevia.
Instead of Sugar use Medjool Dates for healthier holidays alternatives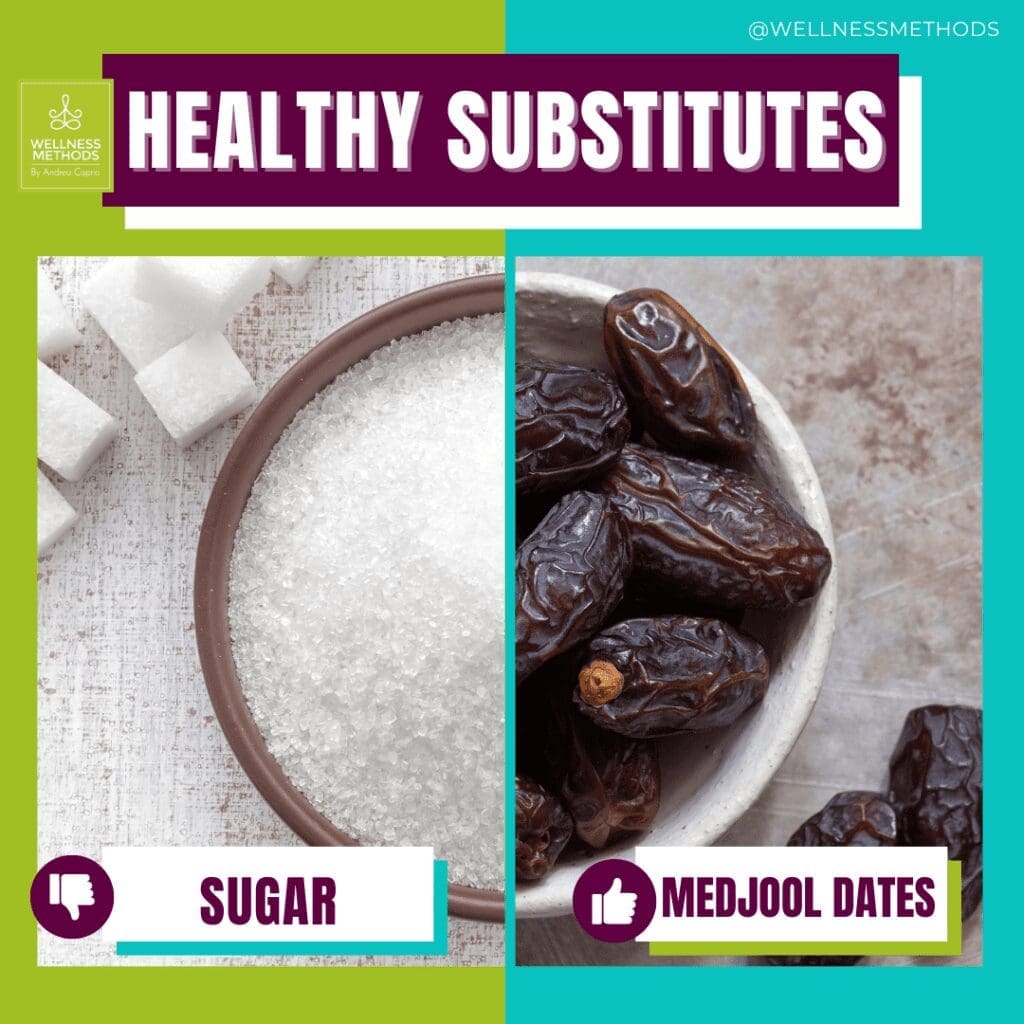 Rather than relying on white and even brown sugar, opt for a sugar substitute that comes from nature. Dates are naturally sweet, and their high fiber content delivers a slow release of energy to your body.
Dates are a great option for smoothies and baked goods as they an unadulterated, natural, and full of fiber, minerals, vitamins, and sweetness. 
Stevia, sugar alcohols, and coconut sugar make for additional healthy holiday swaps when replacing sugar.
Try these ideas:
Add 2-3 dates to your smoothie to add sweetness

Replace sugar with dates when baking a cake

Make a date jam as a spread
Instead of Heavy Cream (or Milk) use Cashew or Other Nut Milk for a healthier alternative for your Thanksgiving healthy recipes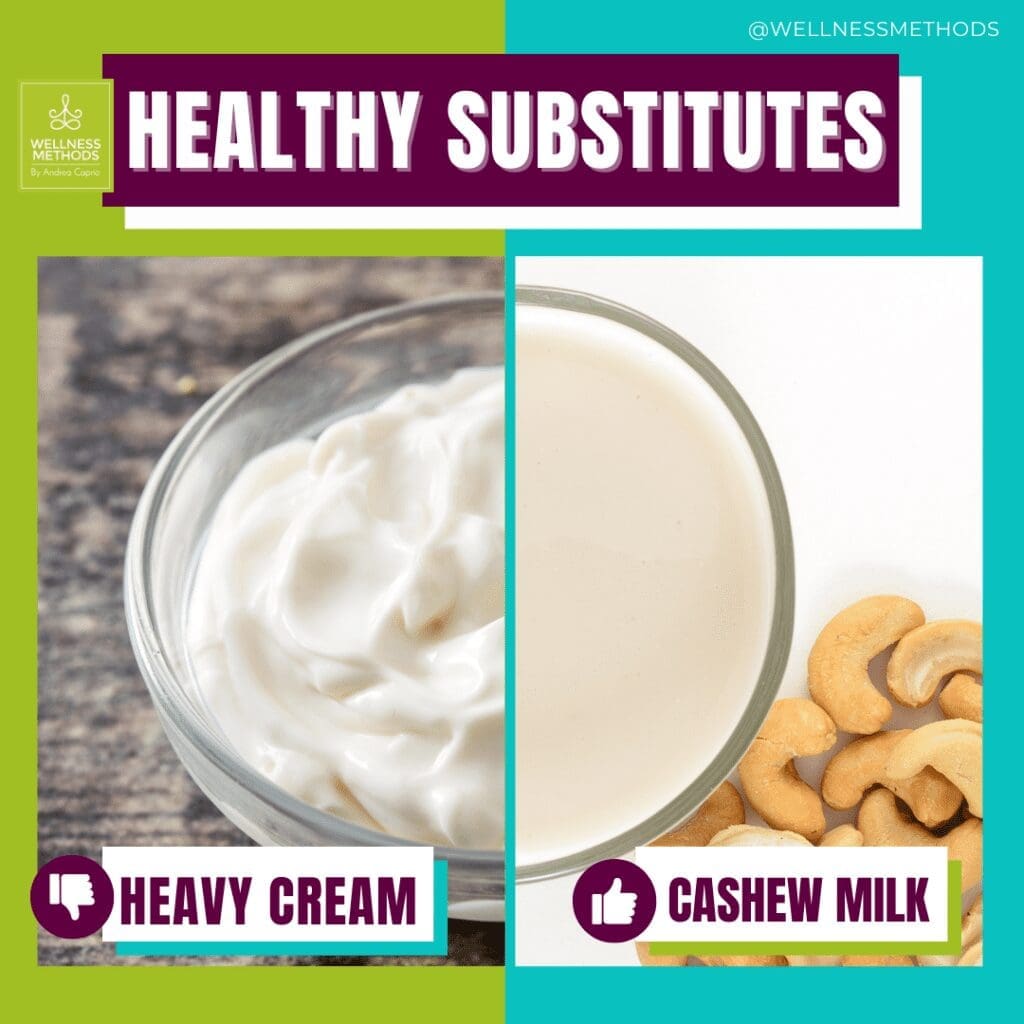 Cream and Milk are becoming more prevalent during the holiday season. We're intending to speak eggnog, mashed potatoes, even spinach –it s no surprise that our stomachs are bloated and our pants feel a little tighter this time of year when we consume such a rich diet! 
If a recipe calls for milk or a creamy base, swap them for almond or cashew milk, or cashew cream.
Nut milk is rich in healthy unsaturated fats, plant-based, and protein-rich.
Here are yummy ways to use non-dairy milk this holiday season:
Make a dairy-free eggnog with cashew or coconut milk and warming spices. 

Mix your favorite dairy-free milk into any baked goods holiday recipe as a 1:1 swap for dairy milk

Use non-dairy milk such as coconut, cashew, or oat milk to thicken any recipe (think: gravy, mashed potatoes, or homemade caramel sauce)

Add a splash to your morning coffee or holiday latte
More dairy-free healthy swaps:
Instead of cream cheese, try nut butter or nut-based cream cheese! 

Swap coconut oil in place of butter for all your cooking and baking needs

Instead of mayo or yogurt, try avocado!

Instead of cheese, try nutritional yeast

Try banana ice cream in place of ice cream
Are you worried to lose out on fun evenings and delicious food when trying to find healthier alternatives to lose weight even after the holidays?
Check out my Food Freedom Foundation Workshop to learn how to lose weight without getting side-tracked so you can gain confidence and energy.
Healthy Holiday Foods That Are Good for Your Diet
Not all holiday food is bad. Here's a look at some foods you might find at the holiday table that are delicious and full of good nutrition. 
Just be mindful of the accompaniment and use the above guidelines.
Turkey
Turkey is a good source of lean protein, zinc, iron, potassium and B vitamins. To keep turkey as lean as possible, avoid adding extra fat and sodium by only using a small amount of gravy and avoiding the skin. 
Green Beans
Green beans contain fiber and vitamins. They're delicious all on their own –opt for simple steamed green beans rather than the ubiquitous high-calorie, high-sodium green bean casserole.
Nuts
Walnuts, almonds, and pecans are full of minerals, protein, and healthy monounsaturated and polyunsaturated fats. Sprinkle a few chopped nuts on a salad or side dish or nibble on a few as an appetizer.
Cranberries
are tasty, but tart. They're an excellent source of vitamins and fiber. They're a good addition to vegetable side dishes but be mindful of added sugar. Cranberry juice makes a nice beverage when you combine it with something sweeter like grape or apple juice.
Fruits for Dessert
Sliced fruit goes nicely with a bit of cheese and crackers for starters. Fresh fruit also makes for a nice dessert, or you can go a little more upscale and enjoy poached pears or raisin-stuffed apples. 
Berries (and Yogurt)
Strawberries, blueberries, raspberries, and blackberries are sweet and nutritious. Parfaits made with yogurt and berries with a sprinkling of chopped nuts make for a healthful and delicious dessert. 
Water
Your body needs to stay hydrated, especially if you dine on a bit too much salty ham or enjoy too many adult beverages. Drink water throughout the party and when you get home. Mix wine with sparkling water for a lighter version if you are drinking alcohol.
Cruciferous Vegetable
Kale, Brussels sprouts, broccoli, and cauliflower are all low in calories, extremely nutritious, and taste superb. Fill your plate with any of these veggies if you have the chance.
I believe that you don't need to lose out on fun evenings and delicious food when trying to find healthier alternatives to lose weight or avoid holiday weight gain.
Are you looking to stay on track in your weight loss journey by developing eating and lifestyle habits you enjoy (without feeling deprived), can rely on, and help you to stick with?
Do you want to stop worrying about lack of willpower, procrastination, or self-sabotage? 
If so, I've got something for you.
Sign up for my FREE Food Freedom Foundation Workshop which offers a step-by-step system that helps overweight people who lack time to lose weight without getting off track and finally feel confident and have long-lasting energy to engage in the activities they enjoy.