21 Day Sugar Cleanse Program
Go sugar cravings-free in just 21 days!! 
Enroll now and get the program for only $97 (instead of $197)
Are you tired of suffering through cleanses and detox diets that have you losing a few pounds but gaining them right back afterward?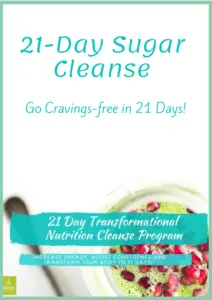 Can you imagine creating a life you're proud of in the body of your dreams by investing just minutes a day?!
In Just 21 Short And Powerful Days, You Can Experience More Energy, Clearer Skin, Weight Loss And A Major Confidence Boost!
Introducing The 21-day Sugar Cleanse Program!
These are the tools you'll find inside the 21-Day Sugar Cleanse
DONE FOR YOU GUIDE 
Get access to the 21-day Transformational Nutrition Cleanse guide, meal plans, recipes, blueprint, shopping lists, and all bonuses. All in an easy to download format

VIDEOS
Get additional support with my 21-days transformational nutrition cleanse how-to videos.

EXCLUSIVE GROUP
Get more support, ask questions and share your success in our exclusive Facebook group.

VIP OPTION
Want additional nutrition coaching support and get more out of the 21-day transformational nutrition cleanse? Upgrade with a special discount.

ACCESS TO SUPPLEMENTS
Support your detox with these amazing supplements available exclusively for you to order additionally.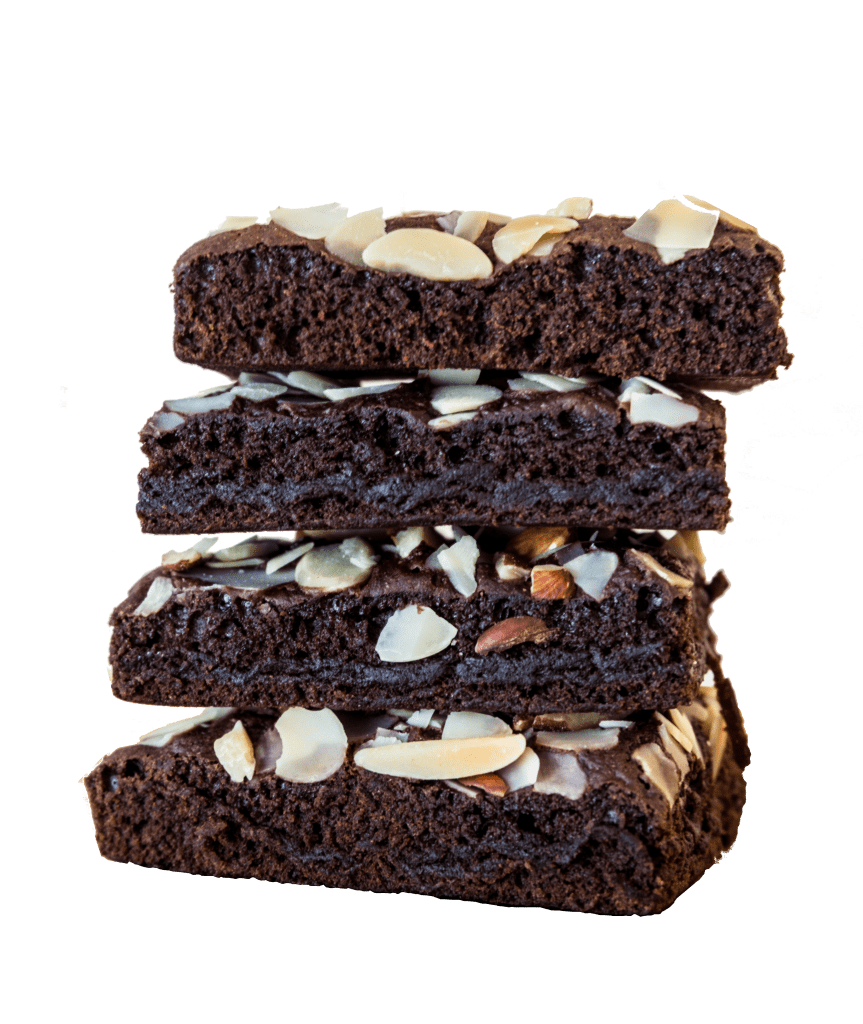 The 21-Day Sugar Cleanse is a proven program to detoxify and eliminate sugar cravings in only 21 days… but what's exactly inside?
Transformational Nutrition Cleanse 21 Day Done-For-You Meal Plan
My 21 Day Done-For-You Meal Plan is a step-by-step plan that tells you exactly what to do for each day and when you need to do it for the full 21 days of the program! It doesn't get any easier than that!
Transformational Nutrition Cleanse Step-by-Step Program Guide
The Transformational Nutrition Cleanse Step-by-Step Program Guide is a quick, fun read loaded with information. It contains helpful, time-saving tips and resources to maximize your cleansing results including what foods to eat, which to avoid, what types of movement I recommend, ways to detox your mind for optimal health and much more!
Transformational Nutrition Cleanse Recipes
This book contains simple, mouth-watering recipes that can be made in 30 minutes or less with ingredients you can find at your local grocery store! Every recipe is perfectly balanced to ensure maximum nutrition and cleansing benefits with minimum effort.

Bonus 1
THE 21-DAY TRANSFORMATIONAL NUTRITION CLEANSE BLUEPRINT
A handy one-pager showing you all that you need to succeed each day.
Bonus 2
THE 21-DAY TRANSFORMATIONAL NUTRITION CLEANSE – DINING OUT TIPS
Learn valuable tips on how to stay on track while out and about
Bonus 3
THE 21-DAY TRANSFORMATIONAL NUTRITION CLEANSE – TRAVEL TIPS
Keep up the cleanse while traveling
Bonus 4
THE 21-DAY TRANSFORMATIONAL NUTRITION CLEANSE – GROCERY SHOPPING GUIDE
Great shopping tips to get the best products for your cleanse.
Bonus 5
NUTRITION CLEANSE SUGGESTED SUPPLEMENT LIST
Get access to exclusive supplements for detoxing efficiently
Bonus 6
VIP OPTION – GET A DISCOUNT TO ADDITIONAL 1:1 COACHING
Want extra care and need more guidance? Sign up for additional 1:1 sessions at a discounted rate.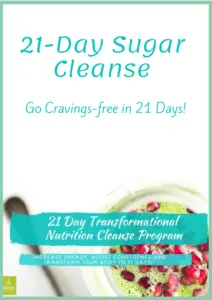 What are you waiting for?
DO NOT HOLD BACK!
You have nothing to lose!
THIS IS 100% Risk FREE
Here's what is included in this 
exclusive program!
Transformational Nutrition Cleanse Step-by-Step Program Guide
Transformational Nutrition Cleanse Recipes
Transformational Nutrition Cleanse 21 Day Done-For-You Meal Plan
New: Exclusive Access to the 21-Day Facebook Group
New: Travel and Eat Out Guide
Plenty of Additional Bonuses
Discount to my VIP option
Let your NEW LIFE start now!!
To make this your reality, you NEED to take action NOW! Don't put it off one second longer! Simply click the link below to get our special discounted price.
It's TIME!!
Tomorrow can be just another day of you feeling tired and frustrated OR TODAY can be the last day of the way you used to be.
Let go of the toxins, hold on to your money
If you're going to invest, choose a product that will result in health-boosting benefits and permanent change – like the 21-day Sugar Cleanse Program. 
People normally pay $197.00 each to go through this system in a group-coaching program. And, if you wanted just one private coaching session with me to learn this information, it would cost $297.00. 
But, because I'm so passionate about getting this information and these products out to the world, I realized that by putting all of my information in a simple, easy-to-understand product with easy-to-read guide and resources, I could get this product out to you for just $197.00 and for a limited time I offer a 50% discount on this price, so your investment is $ 97.00 only  This is a savings of $150.00 from my group-coaching program AND you can get the same exact results as you would working with me privately – at a fraction of the cost! 
So, you can spend many hundreds or thousands of dollars on quick fixes or non-cleansing "cleanse programs" or you can choose a solution that will help provide permanent change and radical transformation, inside and out for much less.
It's YOUR choice
If you don't say "YES" today, I wonder how much longer you will continue to put yourself last and not take action to live an amazing life. You deserve a body that is healthy, strong and powerful. You deserve a mind that doesn't condemn or berate you because of the way you look or feel. You deserve a life that is vibrant, energetic and fueled with confidence!
Register to the program now to become

sugar cravings-free in just 21 days!!

!!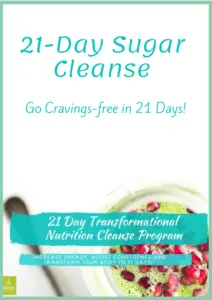 21 DAY SUGAR CLEANSE PROGRAM + 1 SESSION
21 DAY SUGAR CLEANSE PROGRAM
Hi, I'm Andrea!
I'm a Master Transformational Nutrition Coach, Digestive & Hormonal Health and Emotional Eating Expert. After years of struggling with health issues from too much stress and unhealthy eating, I finally found a better way to overcome cravings and uncontrolled eating habits. Today, I show businesswomen whose health and weight have been affected by emotional eating, how they can regain power over their lives and achieve more in their business by implementing healthy eating and lifestyle habits, even if they have no willpower.